hi/hello
here a layout more CAS than the last ones....
When I saw this image (thanks pinterest) I immediatly imagine my layout. I kept the yellow and kraft colors and the aligned hearts....
Une page plus clean que les précédentes avec une inspiration de pinterest (une mine d'or) proposé par MissMag sur Made in scrap

So I created a background of die cut hearts ... add a yellow patterned paper below the hearts that I glued with dimentional foam...
Add some stamps, woodees, chipboards and embellishments here and there all arranged in a grid for June Scraptastic Challenge

j'ai repris le jaune, le kraft et les coeurs alignés ... j'ai mixé tout ça et en a fait un fond de page ouvragé ... j'ai repris les découpes coeur que j'ai recollé avec de la mousse 3D pour apporter un peu de volume.
J'ai glissé une feuille jaune sous ce fond pour qu'on puisse la voir au travers des découpes coeur laissées vides. J'ai embelli certains coeurs pour donner un plus de dynamisme à cette page. quelques boutons, taches d'encres et découpes et chipboards m'ont suffi.
Le tout assemblé dans une disposition en grille pour le challenge de Juin sur Scraptastic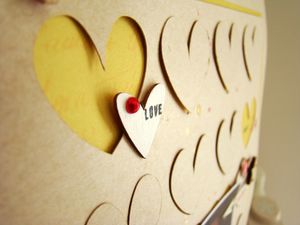 Des étoiles, du rouge et une touche de noir pour le côté masculin.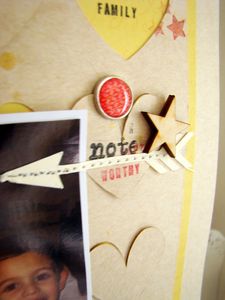 De l'or, du bois pour un côté plus cozy et élégant car c'était quand même une photo prise à Noël..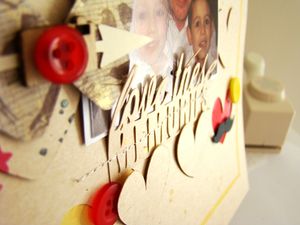 For once I can say that my LO satisfies me because it turns like as I've imagined it.
Je suis assez satisfaite du résultat final car elle correspond bien à la page que je m'étais imaginé...
matériel: papiers : kraft, aquarelle, infocréa; boutons : SàLC; bois : studio calico, sodalicious; chipboard coeur;découpes: caméo (flèche, moustaches, coeur, titre) ; tampons : office, snap, bloomini studio; encres : stazon, color shine or; esprit lolita rouge et noir,distress stain rouge)

Voilà
bises